Changing Chinese hospital culture through implementing evidence-informed clinical pathways
Since introducing market forces into economic and social sectors in 1984 the Chinese government has implemented various healthcare reforms seeking universal health coverage (UHC) expansion, especially for some 642 million living in rural areas. Since basic medical coverage reached 97% in 2011, reformers focused on reducing inequities in health status, financial protection, and quality of care. The reforms particularly aim to challenge institutional and managerial weaknesses, high medicine costs, incomplete clinical guidelines, overcrowding, over prescription of medicines and poor service.
The China National Health Development and Research Centre (CNHDRC) and NICE International initiated a pilot project in 2012 involving the design and implementation of evidence-informed clinical pathways for chronic obstructive pulmonary disease (COPD) and stroke, together responsible for 2.7 million deaths annually in China. Clinical pathways translate the best available evidence and guidelines into policies and payment mechanisms to reduce the unnecessary variation observed in quality of care, costs, and health outcomes. The China-NICE collaboration is being brought under the auspices of iDSI from 2016.
Effective partnerships
NICE International worked alongside CNHDRC and domestic policymaking bodies, such as the National Health and Family Planning Commission (NHFPC), and drew on the wider network of iDSI partners such as HITAP (Thailand) and academic bodies such as Renmin University to tailor the practical support.
Involving all stakeholders and supporting collaboration meant reform could penetrate all levels of the policy setting hierarchy. DFID and the World Bank jointly supported the initiation of Phase One at two hospitals in 2009, and in 2012, Phase Two expanded into two additional hospitals. These county-level pilots represent areas with different socio-economic levels, and are:
Huangdao, Shandong
Wen county, Henan
Qianjiang county, Chongqing
Hanbin county, Shaanxi
NICE International and CNHDRC sought to strengthen existing clinical pathways, and improve the managerial styles in these institutions, through: direct training for senior and non-senior clinicians, physicians, and managers; visits by NICE and CNHDRC experts to the pilot counties to supervise and instigate dialogue; ongoing contact between CNHDRC and pilot counties; secondments of CNHDRC staff to local hospitals; and CNHDRC supported 'training of trainers'.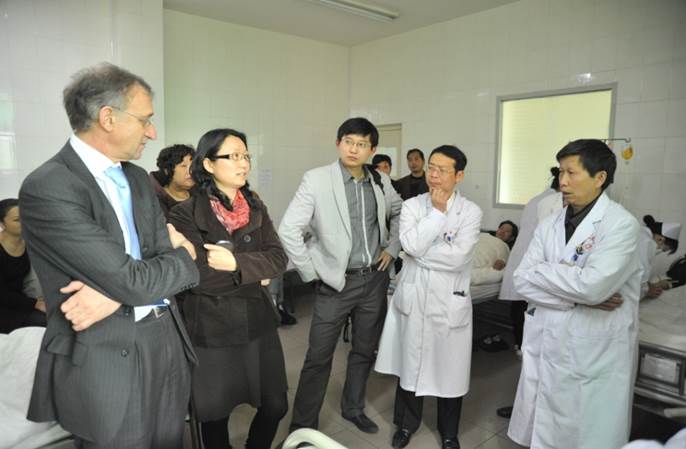 Field supervision of Phase One implementation
Stronger institutions
Among clinicians and managers at pilot hospitals, there is now an emphasis on standardising clinical and prescribing behaviour, reducing average inpatient costs, and reducing unnecessary treatment. Patients are reassured that their care adheres to formal protocols developed with external support.
The response to the work of NICE International and CNHDRC has been overwhelmingly positive (report). Huangdao People's Hospital described training as 'revolutionary'; the increased efficiency achieved by reducing lengths of stay, patient spending and medication use is viewed as invaluable. Emphasising practical training over theories was crucial, as was local stakeholder engagement, to engender success and foster continued managerial reform.
Influence of the CNHDRC-NICE collaboration with clinical pathways and related reforms (summarised from Itad independent report)
Policy influence
Other forms of influence

National policy influence: The pilot provided a model for national policy development and will be replicated in 1,000 counties and 100 cities nationwide.
Sub-national policy influence: The pilot is developing substantial policy traction, in both Chongqing/Qianjiang and Qingdao/Huangdao. This is a substantial achievement. It will be important to see how other counties implement this model, and how technical support is managed to ensure that implementation is of evidence-based clinical pathways, and does not become codification of non-evidence based practices.

The project has had a large impact beyond the pilots in changing ideas and attitudes at central/policy levels. CNHDRC have been very good at leveraging this and getting central people involved in meetings, discussions of the pilots, and the like. They also have a direct policy channel to the centre.
NICE are creating a reputation for the UK in healthcare management; the attention of policy-makers is now focused on the UK and Canada, in that order. This is believed to be of greater importance than the pilots and shows an overall change in leadership thinking.
CNHDRC, in particular the team under Zhao Kun, are getting more attention domestically and are in great demand. The knock-on effect is that others who have been involved in CNHDRC clinical pathways work for some time, are getting asked to do the projects that CNHDRC does not directly take on.
Better decisions
Costs incurred during an acute exacerbation of COPD are about 40%-70% of overall treatment costs. Prior to the introduction of clinical pathways, the average length of stay for each episode was reported to be 21 days, with average costs reaching around 22,700 RMB (£2,350; $3,580). NICE International and associate experts showed how this could be limited to 5 days, saving money and freeing beds which could then be used for other patients. Similarly, it is now physicians who jointly make informed final decisions on such things as the feasibility of changing prescription items, and switching of mandatory and optional status for specific prescriptions. Clinical staff also reported that the clinical pathways had changed doctor-patient relations; having a defined pathway increased communication with patients and patients' understanding of their care, which in turn improved patient adherence to treatment.