Developing Standard Treatment Guidelines in India
NICE International has been providing technical assistance to the Ministry of Health and Family Welfare (MoHFW) and other key National and State institutions since 2009. From January 2016, these activities have been incorporated under the auspices of iDSI.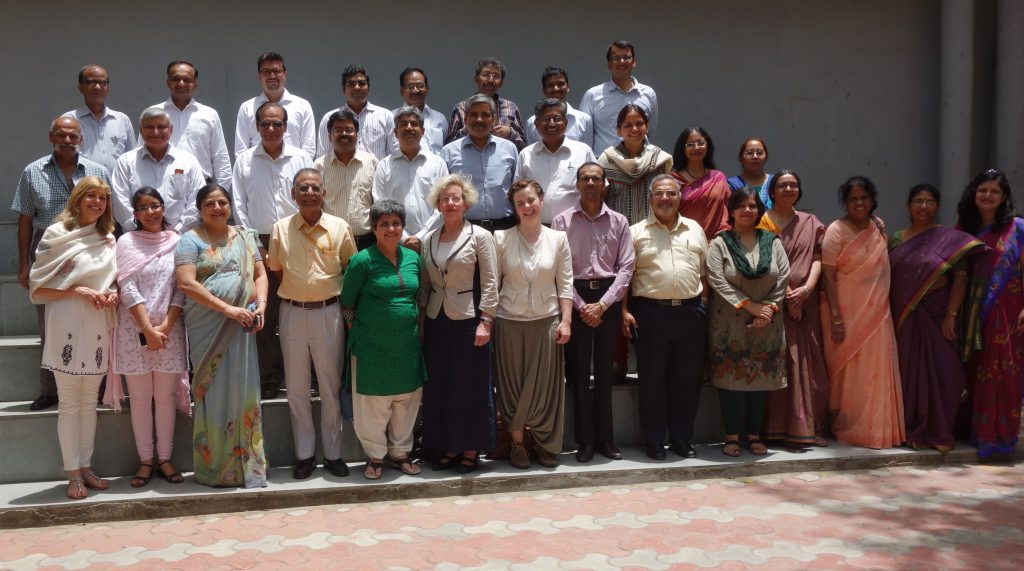 Background
In 2013, the Department of Health Research (DHR) within the central government of India signed a partnership memorandum of understanding (MoU) with NICE International. As part of this MoU, iDSI is currently supporting the MoHFW to produce a process and methods manual for standard treatment guidelines (STGs) through working closely with the National Health and Resource Centre (NHSRC). Please see here for further background. Ten clinical sub-committees were convened by NHSRC to develop STGs for twelve prioritised health topics using this step-wise methodology. This is the first national initiative of its kind in India and represents a promising step towards improving the quality of care and Universal health coverage (UHC).
Effective partnerships
In October 2015, a joint statement released by David Cameron and the Indian Prime Minister Modi highlighted the MOU between DHR and iDSI Partner, NICE International, as instrumental in furthering the relationship between the UK and India. NICE International is currently a member of the Methods Working Group (which includes members from the All India Institute of Medicine (AIIMs), WHO and NHSRC) developing the process and methods manual underpinning the STGs and associated Quality Standards for India. iDSI will continue to work closely with both central and state governments to implement quality standards based on the STGs in order to improve the quality of their healthcare service.
iDSI has been instrumen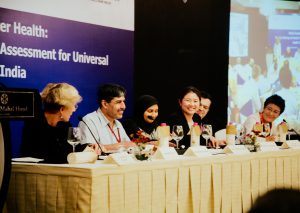 tal in facilitating south-south partnership between the Indian government and the Health Intervention and Technology Assessment Program (HITAP) of Thailand, who have run a health economics training workshop in collaboration with the public health foundation of India (PHFI). iDSI also ran a technical workshop in October 2014 in collaboration with the World Bank, delivering seminars on evidence based medicine, capacity building and health system strengthening. This workshop gave delegates from many countries around the world, including Sri Lanka, China, Turkey, Thailand, and South Africa the opportunity to come together and engage in open dialogue about their collective health system strengthening experiences.
Stronger institutions
As a part of its efforts towards Universal Health Coverage the National Health Mission (NHM) has established an STG Task Force, one of four coordinated by NHSRC. Their aim is to oversee the development of authoritative, national STGs for healthcare services, including those covered by existing large scale insurance schemes (RSBY), and to help expand access to care that is affordable, equitable and effective. The STG Task Force groups bring together Indian policymakers, clinicians, and stakeholders for the first time in a deliberative, evidence-informed process, with direct clinical impact. The first of the STG's have now been submitted to the directorate general of health services (DGHS) and are available online through the Ministry of Health and Family Welfare for public consultation. See this blog post for further information.
Better decisions
The STGs guidelines cover key priority areas such as non-communicable diseases (NCDs), respiratory function, neonatal care, emergency medicine, and ophthalmology. They emphasize low cost, high impact interventions, from the prevention, treatment, and management of NCDs, such as diabetic foot and hypertension, to the emergency management of snakebite and spontaneous abortion. Implementing these clinical guidelines will require significant investment for upfront costs, such as training more staff or investing in new technology. However, it is envisaged that in investing in these cost-effective procedures, technologies and practices, more money will be saved in avoiding serious complications in the long term.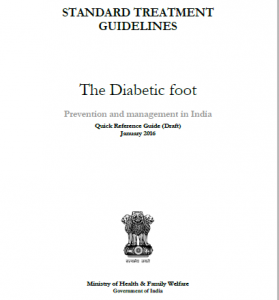 Better Health
The STGs developed by NHSRC for two of the commonest NCDs in India, diabetes and hypertension, have been selected for pilot implementation at the state level (in the first instance).
WHO estimate that 1 in 4 people in India risk dying from an NCD by age 70 and the prevalence of diabetes and hypertension is projected to increase to 70.4 million people by 2030 (Wild et al., 2004). The collaborative effort of the Government of India through the National Health mission and iDSI partner NICE International in developing and implementing evidence-based quality standards in diabetes and hypertension marks an important step forward in India's efforts to combat the rising mortality risk of NCDs.
In November 2015 Dr Francoise Cluzeau and Dr Laura Downey travelled to Delhi, India for meetings with colleagues at a number of allied institutions, including the WHO India office, the World Bank and the Bill and Melinda Gates Foundation. Important meetings were also held at the Ministry of Health and Family Welfare (MoHFW) with the joint secretary for health, and with the director of the Indian Council for Medical Research.
Topics for discussion included the progress of development of STGs in 10 high priority topics, including non-communicable diseases, child and family health, and respiratory diseases, on which NICE International have been providing technical assistance.
A number of these guidelines are now nearing completion and two (hypertension and diabetic foot) have been submitted to the MoHFW to be uploaded on the website for public consultation before being formally signed off by the Director General of Health Services.
Dr Downey and NICE International's advisor in India, Dr Abha Mehndiratta, are working closely with the Primary Care Task Force of the MoHFW, state governments and non-governmental organisations to roll-out the pilot implementation of these STGs and related quality standards at the state-level in the new year. This will be an exciting and challenging undertaking for NICE international, with the average population of the larger states in India exceeding 60 million people.
for further information on NICE International's engagement in India, see the itad report on India